EthicDrinks is a leader in eco-design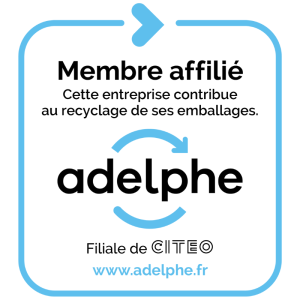 Affiliate Member
This company contributes to the recycling of its packaging.
Adelphe, a state-approved company and subsidiary of CITEO, is a non-profit eco-organization, which aims to develop the recycling of household packaging from companies in France, particularly in the Wines and Spirits sector.

Launched in 2020, this eco-design competition called "Millésime" aims to reward companies in the wine, champagne, spirits, beer and cider industries that are committed to improving the environmental impact of their packaging.

More than fifty companies wished to participate this year. A jury composed of 11 experts first selected 6 finalists, in two different categories (companies with more than 50 employees and companies with less than 50 employees), before letting the public choose between them.
Adelphe's Millésime competition:
the only eco-design competition for wine actors.
We offer organic wines for sale, whose production and distribution processes have been carefully thought out
to ensure the lowest possible environmental impact.

The Adelphe jury identified six strong points, placing it immediately among the finalists:
elimination of capsules, use of materials that have end-of-life channels, purchase of recycled materials,
weight of the bottle lower than the average in the territory...

"Winning this eco-design award is a real recognition of the values we advocate, for the actions we have been taking since our launch,
for our teams who are involved on a daily basis in making the world a better place and on our scale.
This competition, approved by the State, and this unique prize in the wine world, supports our eco-responsible approach,
committed for a year and a half " explains Mickaël Alborghetti, our founder.

We are delighted to have won this competition, which rewards our environmental efforts.
I'll see you at the end of the week to talk about a beautiful eco-responsible brand.
A recognition for our commitments and for our wish to
"make the world of wine better".