If you follow us on Instagram, you would have already discovered our new Organic Champagnes!
Two nice bottles: an extra Brut and a 0 sulfite.
As you know, we use recycled glass bottles, hence this very dark color for these Champagnes.
 

DID YOU KNOW?
We use corks from FSC certified forests. We removed the capsule and wire cage by replacing them with a string.
For the record, this system with hemp twine impregnated with oil was invented by a French cellarer monk called Dom Perignon.

It is in the 17th century that Dom Pérignon introduced the hemp string in his process to keep the wine sparkling and fresh.
This Benedictine monk at the Abbey of Hautvillers remains today the legend, the spiritual father of Champagne.
To limit our environmental impact on packaging, nothing beats going back to these ancestral methods.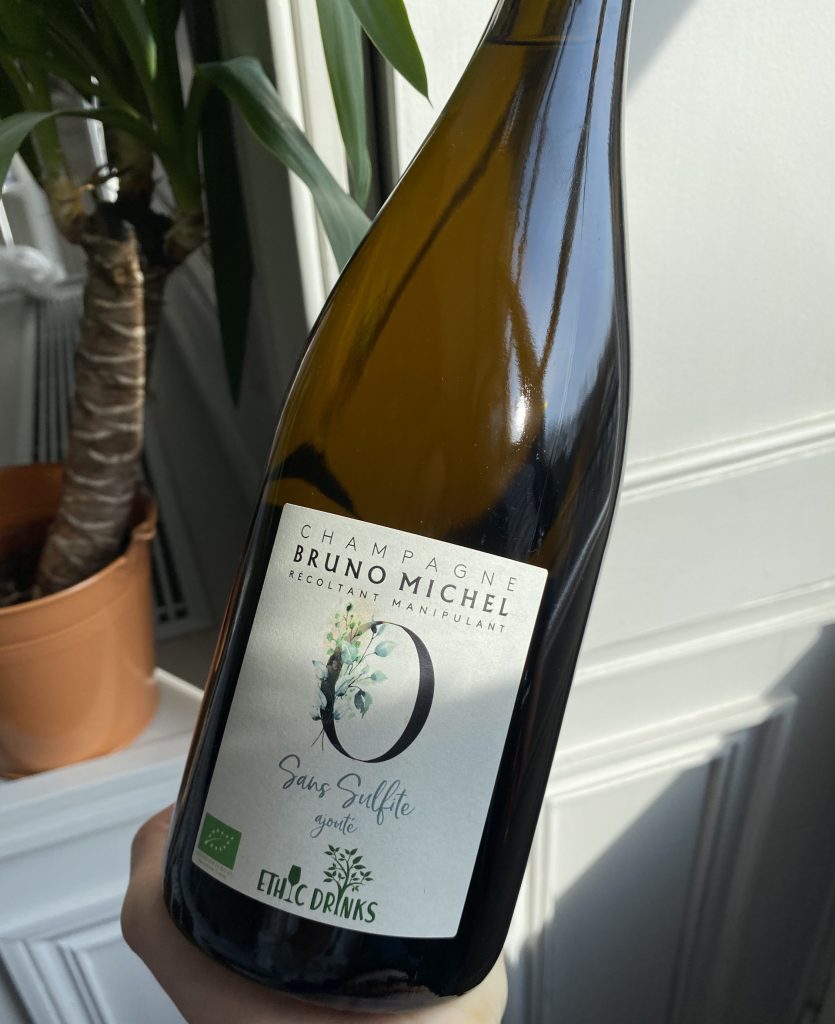 Let's discover our Champagne without added sulphites.
This one comes straight from the hillsides of the South of Epernay in Pierry at Bruno Michel's estate. He is our organic and committed partner winemaker.
This Champagne is made of one and only grape varietal: 100% Pinot Meunier.
 This varietal is a mutation of Pinot Noir.
Tasting Notes:
A nice clear color with fine bubbles, an aromatic and mineral nose with notes of pear and orange blossom. On the palate, it is fresh and bright, with a long finish, and a nice salinity.
Little wine paring advice it: it is perfect to start a dinner/aperitif or to accompany with a nice plate of oysters (I love the n°3 size ). For fans of scallops like me, it pairs really well with a delicious leek fondue.

This Champagne with no added sugar or sulfites brings lightness and nice fine bubbles. ❤
What about the Extra-Brut? The famous Champagne that will enhance your aperitifs.
Still from the same winemaker, we created a second cuvée:
The Champagne Extra-Brut Zéro Dosage.
What does Extra-Brut Zero Dosage mean? It is simply the sugar content.
It must contain between 0 and 3 gr of sugar per liter.
Tasting Notes:
A Champagne with fine bubbles and citrus notes.
 The expressive old vines bring an intense mouthfeel with a beautiful finish.



This blend of 2 grape varieties (78% Chardonnay and 22% Pinot Meunier) will accentuate your fruity desserts, your appetizers or even your seafood plates such as shellfish with seaweed tartar.❤
Now we can keep busy through the week with these delicious champagne and wine parings to try out!

For me, I can't wait to discover the 0 sulfite with scallops!
Have a great tasting and a great week!

😋
Tiphaine